by Zack Kaplan - 7:51 A.M.
Source: http://lego.cuusoo.com/ideas/view/2082# LEGO CUUSOO
Total Comments: 2
Two Legend of Zelda LEGO sets are possibilities with your support.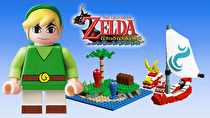 Last year a fan-proposed Legend of Zelda LEGO set reached 10,000 supporters on the LEGO CUUSOO site, the level required for LEGO to officially review the idea. However, it was turned down for cost reasons (the Minifigure molds were too expensive).
Since then, multiple sets based on The Legend of Zelda have appeared, including two I want to share with you here. The first is based on The Wind Waker and has already received 1000 supporters.
Read more...