by Zack Kaplan - 5:55 A.M.
Total Comments: 8
In celebration of Thanksgiving, Zack takes a look at all the stuff we should be thankful for this year in Nintendo.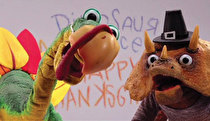 Thanksgiving is a day Americans visit with their families and celebrate all the special things they are thankful for while stuffing their gullets with the suffering of turkeys across the nation. In honor of this national tradition, I thought I would share with you all what I'm thankful for in the world of Nintendo. Now my children, while I prepare this Yoshi for our Nintendo World Report feast, you should read this list, for it is what the Pilgrims came to this country for.
Read more...